For retailers, many of the early purchasing decisions are based on personal preference. Would I like this product? Would I buy it? It is crucial to develop suitable processes for making decisions on what to restock; what to promote and what to ditch from the inventory altogether. You may be asking yourself, 'how do I know what I need to stock'? The answer lies in some of your data, and we are going to look at how this information, gained from an EPoS System, can to help you make cost-effective inventory decisions.
What should I be buying?
In the first year of trading, it can be tough to know what to stock. Analysing competitor websites can be somewhat useful, but it is the sales data from your store that is the most effective.
Our EPoS System modules have analytical capabilities that can make this job much easier. At the touch of a few buttons you can see what is selling and what isn't selling at all; plus everything in between!
For more retail stores, the effect of seasonal changes is huge. Being in preparation to stock more or less of certain items will help you plan your inventory management and buying decisions. For example, you could look at the sales figures from the previous year and see that you were restocking sticky tape weekly in the approach to Christmas. This information can help you make the decision to make one large order rather than multiple ones which take additional time and effort.
How often should I be re-ordering using an EPoS System?
Re-ordering doesn't always have to be time-consuming thanks to new technological capabilities offered by many POS systems. However, ensuring that you get your buying patterns right will help keep your stock fresh and organised.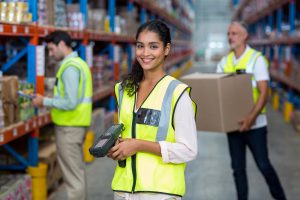 Sales data is a fundamental component of identifying reordering schedules and establishing buying habits. Using this information, you can analyse what items sell quicker or which hang around on the shelves for a long time, then adjust your inventory re-ordering schedules accordingly.
It is also important to keep a note of items that customer may ask for that you don't stock. If these become regular requests, then you need to consider sourcing this product for your daily inventory, as fulfilling customer demand is vital for repeat business.
What about inventory shrinkage?
Sometimes known as phantom stock-outs, this refers to stock items that are recorded as lost or stolen. While this is obviously not a positive thing for any business, many items often appear later.
EPoS systems with centralised inventories, such CES Touch, are extremely beneficial for these scenarios as they can keep track of stock whether sold levels whether sold online or across multiple stores.  However, if certain items do regularly fall into this bracket, then you can look at putting additional security measures in place to help minimise loss.
For more information on the issues in this article or our services, call us today on 01992 564 645.