EPOS Software for Retail – Contactless Technology
The British Retail Consortium (BRC) recently published their annual Payments Survey. Researchers identified cash was used for less than 50% of all retail transactions. The report examined the methods of payment customers are using when purchasing products, such as EPOS Software for Retail Contactless Technology.  How this differs from previous years and the average cost to the retailer for handling each method of payment.
The data showed that the use of cash has declined by almost five percentage points. Down to 47.15 percent in 2015 from 52.09 percent in 2014. This is the greatest percentage drop for five years. At 20 percent fewer transactions made with cash than in 2011.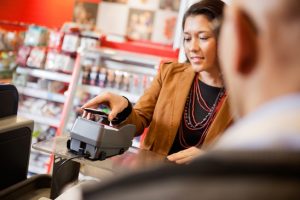 It appears that customers are turning to their debit or credit cards to make payments because of new contactless technology. Which is proving very popular for lower value transactions, predominantly paid by cash in the past. Card issuers are also driving this change in customer behaviour, with 55% of cards currently in use now featuring contactless technology.
Investment in payment methods.
Retailers have made this development possible by investing in payment methods; specifically EPoS Software and Hardware. Which has allowed for easy, secure and faster payments to be made in their stores. Contactless payments can operate seamlessly alongside existing terminals and other ways of taking payments, whether by cash, cheque or card.
The BRC also established that the cost of handling debit and credit card transactions for those retailers participating in the survey has reduced by around £159 million. Early changes made available to some retailers by debit and credit card schemes in advance of the implementation of the new Interchange Fee Regulation made these savings possible by . The full impact of the changes under the regulation and benefits will be experienced by all retailers from 2016.