If planned and implemented well, opening multiple stores can boost revenue and profit. It can also bring community benefits by creating additional jobs. However, before you start eyeing up new premises, there are some questions that you should ask yourself. Here is our guide to what you need to consider before opening additional stores for your retail business; specifically in regards to EPoS Software and Hardware Installation.
The opportunity to grow your retail business is exciting. It can be tempting to throw yourself into opening additional stores without much planning or strategy. After all, more stores equal more revenue, right?
Do you have the technology in place to manage multiple stores?
Technology is crucial to run a thriving business. Thanks to the rapid progression of technology for retail it is now possible to centralise procedures; so that processes that are happening in multiple stores can be controlled in just once place.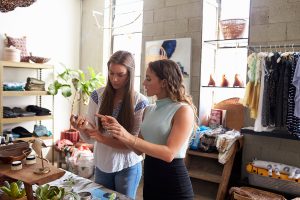 A cloud-based EPOS system, where all of your company data can be stored safely online. Servers are not a requirement, saving you valuable space; plus your information can be downloadable from the cloud at just the touch of a button.
As you can imagine this is invaluable for multi-store retail businesses as it lets you retain total control from whatever location you are in. It also syncs in real time meaning that you have up to the minute data meaning you can effectively advise on stock levels etc.
The perfect choice for an expanding business – CES Touch cloud-based EPOS Software
Here at CES Software, we are pleased to be able to offer cloud-based EPOS Software that is comprehensive and low-cost solution for retail businesses looking to start, maintain or build upon their brand. With cloud-based intelligence, you can make inventory changes, see business performance by running a variety of reports, and monitor employee activity from anywhere in the world, at any time.
In addition to this, alongside unique on-screen customisation, CES Touch also has the capability for different modules to create your custom software; tailored for your business.
If you have the opportunity to expand your business, we hope that this blog has given you insight into the decisions that you may need to make before jumping in with both feet. Good luck!